Instagram Stories has become the best way to make games for Instagram. Young and not-so-young people are taking a day-to-day stroll through the stories. This feature has proved irresistibly entertaining and creates a lot of interaction that's why it is so widely used.
Forget that stories are only for sharing images, it is also possible to make games for Instagram just by using the gallery of tools. Making them see you is not the only goal of this format, you can ask for suggestions, opinions, make your followers vote and have fun with you.
Today we share with you the best games for Instagram, we assure you that your community and the platform will reward you.
Why is it good to make games for Instagram Stories?
The platform is programmed to give you visibility as long as you stay active and create community, that is, that you keep interacting with your followers both through direct messages and stories, so when you upload content to your feed it gives you more visibility.
It is for this reason that creating games for Instagram keeps you on the radar, otherwise, no one sees your posts.
Go ahead and make games for Instagram using polls, emojis, music, stickers, question boxes, lists, avatars, quizzes, the slider… There are many options!
What games can I make for Instagram?
Instagram Stories can be more fun and dynamic with games, so without wasting time let's get to it!
1. WHAT DO YOU ASSUME ABOUT ME?
With the questionsticker you can make this game for Instagram. When you post it, you simply write in the little box, "What do you assume about me?". The idea is that your followers get to know you better and they make you tell something you haven't told
When you see the assumptions, some or all, you can share the answers in your stories others see what others wrote and you admit or deny some comments.
2. GUESS
One of the most popular Instagram games, is to make others guess your age, favorite color, the year you were born, your favorite movie or favorite color.
The idea is that you give several options either with the quiz or the poll. You can also write with the text tool several dates or any possible answer, of course you must align them and then put a slide if you wish.
At the end you can see the results and see if your followers got it right or not.
3. NUMERICAL QUESTIONS TEMPLATE
This is one of the most viral Instagram games. You just need to create your own template with creative questions or use one that has been shared to you.
If it's not your style, you can create a story, color the background and write several questions you would like or would be willing to answer. Next to it you should put a number and leave a space to include a quiz or a survey, with the question What do you want to know about me?
This way, your audience will have to answer with a number and you will comment on the most requested question in a new story. It's up to you whether you want the answer to be anonymous or not. This is a game for Instagram that encourages participation.
4. CREATE AND GIVE AWAY A TEMPLATE
For this game you can rely on Canva or some similar editor, choose some cool template or adapt it to your style. You can share it in your stories and put a white background for people to make screenshots and also reply them in their stories. You can even ask them to tag you and know the impressions of the other "players" of the game is not using Instagram features as such, but bringing a template for your audience with a screenshot, they can use it in their stories.
5. WHAT DO YOU PREFER?
Sticking with Canva templates, there are very creative template designs for you to make this game for Instagram. This is one of the most popular Instagram games that you can also make using the question stickers, either by creating a poll or quiz, so your followers will vote for an option.
Every time someone views the story they can vote for one of the two options, creating a fun dynamic where everyone can see the results in real time.
It can even be better if you leave a question box for your followers to ask you "Which do you prefer?" questions that you can share and answer in several stories.
If you make the game with a template, leave a space to use a quiz asking A or B? so you motivate your followers to participate. With this game, your audience can get to know you better.
6. NOT VERY POPULAR OPINIONS
This is one of the coolest Instagram games because it lets you know what your followers think. You will find answers of all kinds! The idea is that you use a question box and ask your followers to "share a not so popular opinion". Then you can share their answers, comment on them, make another poll for people to vote… participation for sure!
7. GUESS THE SONG
To make this game for Instagram you need the question box, but in its music version. If you want to perform it you need to put a part of the lyrics of the song… Then you write in the box: guess what song I'm thinking? guess what song they dedicated to me? guess what song I can't get out of my head? Or any other you can think of.
You can also play this fun musical game by humming a part of the song, or by recording a little piece of the melody. After your followers answer, you can see if they get it right and finally, share the answer. Don't forget to share the song at the end to accompany the story with the result, so it will look even cooler. You can even offer a prize to the first person who guesses, take a screenshot and share it in your story.
Another option is to post several song options and have your audience vote by trying to guess the song.
8. DESCRIBE ME WITH A SONG
This is another fun Instagram game. You will also need the question box in music mode.
Ask your followers to describe you with a song, so that everyone sends you different themes. You can share the ones you like.
An alternative to this game is to ask for music recommendations to start the day, while you work, to clean your house… Whatever you can think of!
9. TWO TRUTHS AND A LIE
The original game is called "Two Truths and a Lie", i.e. "Two truths and a lie ". This is a game for Instagram that is very much liked and you can do it with the "Quiz" sticker.
There are several ways to do it: about you, about your brand, about general culture questions… the trick will be that you must tell Instagram which is the correct answer, that is, the statement the false of the three options Instagram will tell your voter if he got it right or not!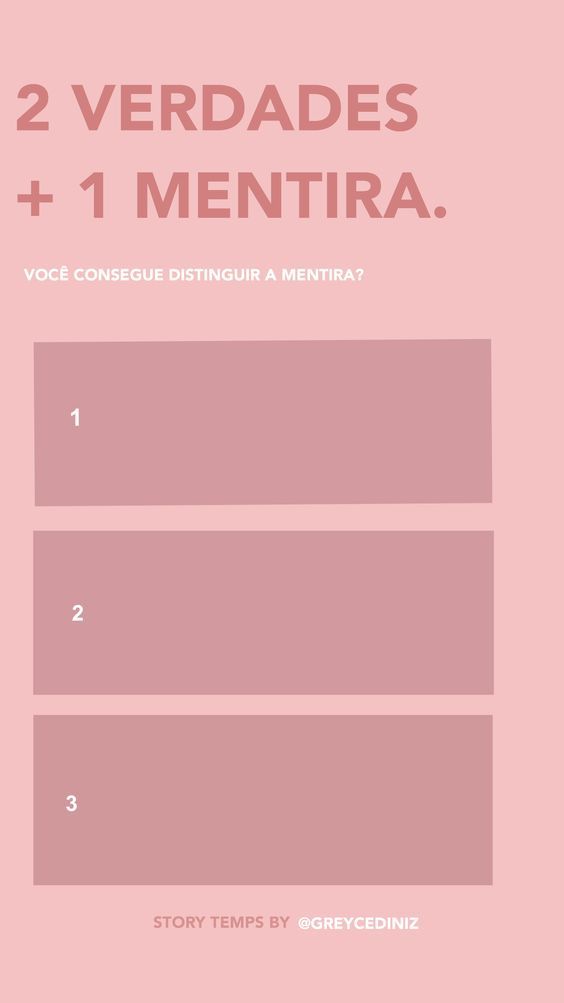 10. GAME OF RECOMMENDATIONS
One of the best games for Instagram is the recommendations game. It consists of you promoting followers or other accounts.
You can start it by writing "React to this story with an icon of…" or "I will reward the first one to react", "Promote the first one to react to this story"… you can use similar phrases. When you start receiving that particular emoticon, you can give recognition to someone.
You can also ask those who react to share the image and make the game in their stories. Then you go to their profile, the shared picture and on the paper airplane icon you can share it in your story.
You can even create a list of recommendations for everyone to get to know each other. For example: the funniest account, the account where I learn the most, my best friend's account, a doctor among my contacts… Whatever you want, it's a way to gain followers and generate interactions in a simple and effective way.
11. FUN BINGO
This is a classic and could not miss among the games for Instagram. To make them you need to use templates created in Canva or similar programs to have your custom image.
The goal is to create a grid and include several options. Instagram bingos can be used thematically (Christmas, summer, Halloween). Next, you should write several situations that your followers can relate to and share the template before you respond.
You can include emoticons and check the boxes you identify with. Soon you will see many people answering your bingo with other options different from yours.
12. YOUR TURN
This is a recent sticker you can play with. You can display one or several images, according to certain categories or commands. You can even use it in video, making a collage or adding texts. This is arguably the most popular Instagram game at the moment.
How can you see the answers to your games?
When your followers start interacting or reacting to your stories, you can check the progress on the results in two ways:
Locate in the lower left corner of your story the visualizations menu, that is, where you see the people who have accessed or visualized the story. The options that people have chosen will appear there.
With your story open, you can swipe up and automatically, you can see the panel where you will see all the statistics of the story: number of views, who has viewed it, who has voted and for which option they have voted.
How can you interact with your followers' responses?
Depending on the type of reaction, some of them you will be able to see them as explained above, but others arrive as private messages, so you must open your message box.
Remember that, at the end of the 24 hours of the story, you can still share the results of your game, quiz or survey in another story, so you can show the participation or how many people got the right answer.